Modified on: 12/09/2023
Find out which are the main types of hash enjoyed around the world
If you're a fan of cannabis and CBD cannabis and its derivatives, you've probably come across many types of hashish while poking around. The darker, more malleable products, those that tend towards golden yellow, those that have a harder consistency, etc. But how many types of hash are there?
But how many types of hash are there?
What are their particularities?
It would be too complicated to give an exact answer to the first question because there are so many types of hash with other characteristics, but we will list the main ones below to have a clear idea of what is on the market.
Here are the main types of hash in the world.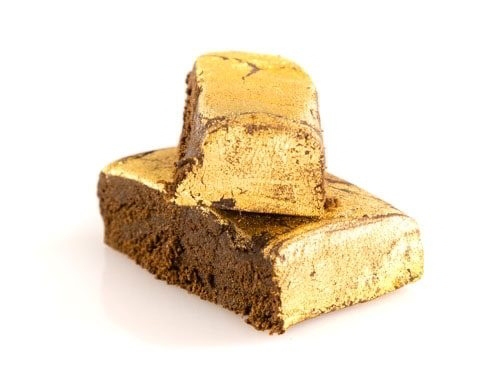 Charas: round, fresh and spicy
One of the most well-known varieties of hashish globally is undoubtedly 'charas', a unique type of hashish mainly produced in India, Pakistan, and the Himalayas.
The cultivation of marijuana and the production of charas in these regions goes back a long way.
But what is so particular about this type of hashish?
Unlike most other varieties, charas is made from fresh resin.
To make this product, you rub the fresh cannabis (or CBD cannabis) buds between your hands so that the resin sticks to your palms. The resulting layer is then peeled off and processed into small, malleable, dark and very fragrant balls or pellets.
Charas is a particularly spicy type of hashish that, when consumed, generates potent effects, primarily resulting in muscle relaxation and dizziness.
On Justbob.shop, you can find the legal version, which has a THC content of less than 0.2% and a CBD content of over 16%.
Afghan hashish: fragrant, powerful and sedative
Today, Afghanistan is one of the leading producers of hashish, which is why you have probably heard the name Afghan hashish a lot.
There, the product is called chars (note: not charas, like the hashish mentioned above) and is made from trichomes taken from dried cannabis buds.
Once the kief has been made, it is processed to the consistency of a paste: what is needed for this is a metal plate, which is heated by a flame and on which the pollen is mixed with a bit of water or tea.
Once the mixture has the right consistency, it is worked manually.
The result is a very dark (almost black) or chestnut-coloured, malleable and particularly aromatic (sometimes almost spicy) lump.
In addition to its scent, Afghan hashish is known for the potency of its effects, which are primarily soothing and relaxing.
On our online store Justbob you will find a legal version of this product (low THC and high CBD): Afghan Gold: a variety of hashish wrapped in pure gold leaves!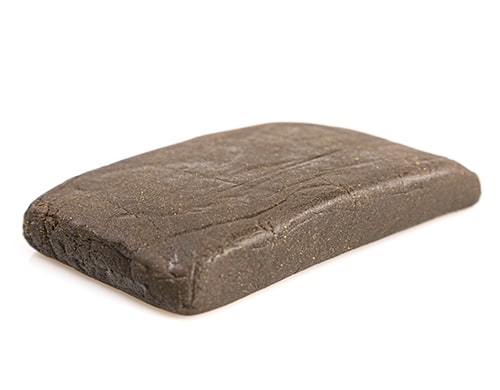 Pakistani hashish: super aromatic and mind-blowing
Pakistani hash is one of the best known and most loved in the world. 
Its production method is very similar to that of Afghan hashish, but with the difference that, after processing, the hash cakes are left to age for a few months in goat or sheepskins to enhance the aromas, which are the actual trump card of this product.
In addition to being super fragrant and spicy, Pakistani hashish has a particularly intense, relaxing effect in its classic version.
In our cannabis CBD shop, you will find the legal version of Pakistani hashish, which has a CBD content of around 17.5%.
Lebanese hash: the colourful resin with cerebral effects
One type of hash that differs from the others is undoubtedly Lebanese hash.
To make this product, the plants are dried before being cut, and it is at this stage, they can take on different colours (yellow, red, or brown).
As soon as the plants are dry enough, the tops can be sieved.
The resin obtained is used to make kief, which is then pressed into crumbly lumps.
Younger hemp plants are used to make yellowish Lebanese hashish, which is known to cause a cerebral high; more mature plants are used to make red hashish, which produces different effects, mostly narcotic.
Hashish production: an ever-evolving world moving towards 'legal'
In addition to the varieties of hash described above, there are also many others: there is Moroccan hash, Nepalese hash, Turkish hash, Burbuka, Manali Cream, etc. In short, the world panorama of hashish is varied.
In short, the world panorama of hashish is varied.
Hashish has ancient roots and has always been appreciated in many countries worldwide in all its variations, but especially in its more fragrant and concentrated forms.
However, what has partly hindered the spread of this substance is its high THC content, a psychotropic cannabinoid considered illegal in many countries of the world.
To overcome this problem, many new types of hashish have been developed from legal hemp plants, i.e., those with very low THC and high CBD concentrations, which you can find in our JustBob store.
The resulting product is called CBD hash or legal hashish and is a product that you can also legally purchase in Italy.
Read also: What are enzymes and what role do they play in cannabis?
To conclude
The world of hashish, like everything else that revolves around hemp plants and CBD cannabis, is constantly evolving. It is likely that there will be many new varieties of products in a few months and that perhaps one of them will take over from the others. 
That said, remembering that the use of CBD flowers and their derivatives is forbidden, we invite you to visit our store www.justbob.shop to purchase your favourite products for collecting purposes.
A good deal of news is waiting for you: see you soon on Justbob.shop!