Marijuana mincer also called grinder or, in a concurrent manner, "Maria mincer", is a very useful accessory for those who take legal and classic marijuana.
---
Did you buy an excellent legal marijuana and are you tired of chopping it by hand, since you have a not so perfect result? Then a marijuana mince is what might be right for you. This tool, also called grinder, is heavily used by cannabis users for both recreational and therapeutic purposes.
But how is it done, how does it work and which model do you prefer? Continue with the article and you'll find out!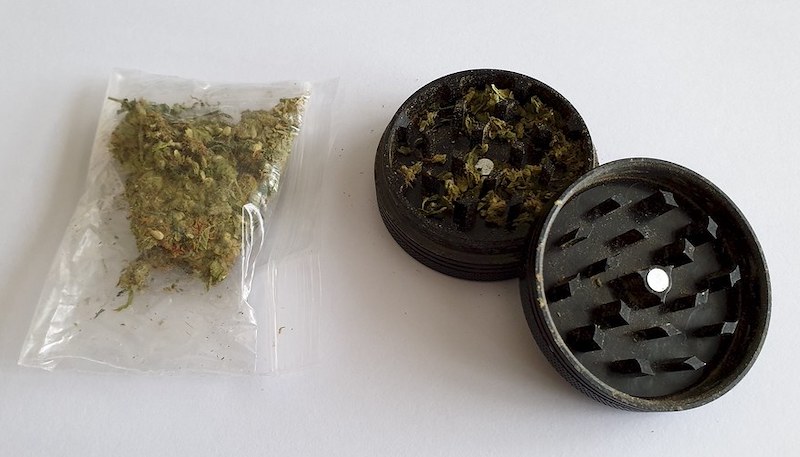 What is the marijuana mincer
The marijuana mincer is a tool that allows you to chop the inflorescences of cannabis meticulously, but also tobacco or other vegetables.
Fans of legal weed particularly appreciate it because its grinding brings out the best of CBD flowers. Aroma and taste of the hemp are intense and clearly better if the grinder is used to chop it.
In short: once you've tried it you won't leave it anymore!
But how is it done?
First of all, we have to distinguish between manual and electric grinders.
Read also: 3 varieties of marijuana perfect for the winter season
Manual grinder: how is it done and how does it work?
The manual marijuana mince is generally composed of two cylinders (in some models there is also a third part useful for collecting the resin after grinding) of variable materials. These cylinders are notched in their inner parts.
Using the manual grinder is very simple:
Slightly slice the inflorescences of marijuana into two or three parts;
Insert them in one of the two cylinders, resting them on the serrated part;
Close the marijuana mixture by joining the second cylinder to the first;
Repeatedly rotate the two cylinders in the opposite direction;
Open the grinder: an intense fragrance and super homogeneous chopped inflorescences will welcome you!
How it works and how the electric hemp grinder is done
The electric grinder works on battery and is composed of a metal part and a plastic part; it is generally sold in the shape of a small flashlight.
To use it you have to unscrew the plastic tank and fill it in half. At this point, turn on the grinder using the special button, keeping the tank facing down, and shake it lightly.
The result will not be super like that obtained with the manual grinder, but you could prefer the battery-powered one because of the speed of use.
Which grinder to buy?
There are many types of marijuana grinders on the market, which vary in shape, size, and material. If you want a more satisfying result, we recommend a manual grinder first.
The electric hemp trimmers are often of poor quality and could get stuck or stop working after a short time.
Among the types of manual grinders we can find the followings:
grinder pollinator: in addition to the two classic cylinders, it has a sieve and a compartment in which the resin is collected;
grinder medtainer, generally used by those who chop therapeutic marijuana, for medical use. It has an airtight and often anti-odor container so that the aroma of the inflorescences does not leak out of the chopped marijuana;
crank grinder: do you know the coffee grinder? Here, the shape, although smaller, is definitely similar to that tool; the purpose, as you well know, is decidedly different;
grinder card. Forget the cylinders: this maria grinder is actually a card (similar in shape to a credit card) with a grater. Perfect if you want a portable and discreet accessory to the eye. But be careful: if you keep it in your wallet, the aroma of marijuana will follow you unmistakably!
The marijuana mincer is therefore suitable for every taste and preference.
Read also: Marijuana and cancer, what science says about the benefits of cannabis on cancer
And the materials?

Which material to choose for the grinder
As we told you before, even the materials of a marijuana mincer are different. Here are the most used ones:
aluminum grinder: light and durable, excellent quality/price;
steel grinder: low price and excellent yield. The only flaw? Weight!
ceramic grinder: excellent material quality, above-average price but worth it.
grinder in wood and soapstone: usually the yield is not worth the expense. They do not always perform their function best; moreover, they are not very hygienic because it is not possible to clean them effectively. They accumulate bacteria and wood can even develop very harmful molds. Better to bet on an aluminum or ceramic grinder;
plastic and zinc grinders: poor quality, economical but not long-lasting;
titanium grinder: maximum cost, great yield.
If you are an admirer of marijuana or are becoming it and you want a good quality CBD weed grinder, we, therefore, advise you to buy a manual grinder done of aluminum, ceramic or titanium.
Trust us: at a cost of around 10 euros, you can buy top quality marijuana grinder!