Modified on: 23/10/2023
CHARACTERISTICS AND INFORMATION OF THE CANNABIS CBD MOONROCK, RICH IN CBD AND COVERED WITH LEGAL HASHISH
The CBD weed always gives us great emotions and one of these is the Moonrock, literally "moonrock", a nugget of marijuana with a genuinely unique aspect (and in demand all over the world!).
With a very high CBD content, made with a special preparation, Moonrock marijuana is one of the most requested products in the legal marijuana scene and its cousin Icerock.
Today we want to focus on the moon rock of CBD, exposing you characteristics, method of preparation and other valuable information about it, so that you know everything (absolutely everything!) About this product.
Sit comfortably and polish your pupils well: we're about to start!
What are cannabis Moonrocks?
Marijuana's so-called "moon rocks" get their name from both their appearance and effects. Originally made with high-THC cannabis flowers, Moonrocks give users a genuinely lunar experience thanks to their high concentration of cannabinoids, especially the psychoactive tetrahydrocannabinol.
These rocks are commonly called cannabis caviar precisely because of the excellence and refinement of the product.
Watch the video to see legal Moonrock marijuana for yourself :
High CBD Moonrocks are CBD cannabis flowers dipped in CBD oil and covered with a generous sprinkle of CBD kief. As you may know, kief is the precious resin produced from the trichomes of cannabis buds, rich in cannabinoids (in this case CBD).
They are therefore products with a very high cannabidiol content, which can easily reach 70%!
Initially, these products were not made with CBD buds but with the sole use of marijuana with a high THC content.
Read also: Introducing Moonrock Ice, the CBD cannabis rock covered with precious CBD crystals
The origins of Moonrock: from THC to CBD-based product
The legal cannabis Moonrock has very recent origins: in 2013, the mixtape between the former executive vice president of Death Row Records, the rapper Kurupt (Ricardo E. Brown) and music artist Dr Zodiak (Daniel Laughlin) quickly turned into another collaboration, namely the birth of marijuana in the form of moon rocks.
Not surprisingly, the first line of Moonrock at THC was launched by rapper Kurupt. Since the launch of cannabis moon rocks on the market, many other companies have replicated the shape, up to the companies producing CBD marijuana.
In France, thanks to the Italian /European laws, legal hemp has spread (again, for the first time since the era of prohibition) starting from 2017, following the law 242/2016.
We at Justbob were among the first companies to see the very high potential in CBD flowers and, since the birth of our CBD shop, we have always chosen the best qualities of legal weed.
Updated continuously, our goal is to offer our customers products that are always in step with the times and still new.
Hence the idea of ​​creating very fragrant CBD moon rocks, with extreme cannabidiol contents and rich in terpenes that give the product an unmistakable aroma.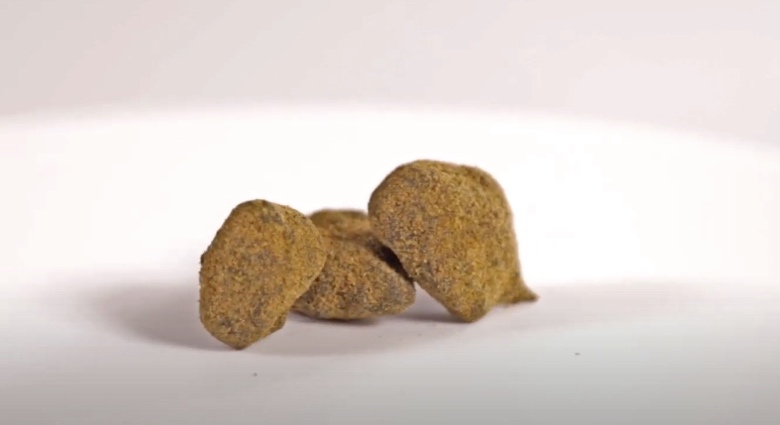 What is the CBD in Moonrock, and what are its effects?
The cannabidiol (in acronym CBD) that Moon Rock herb is rich in is a non-psychoactive cannabinoid. It is, precisely, one of the maximum active ingredients of cannabis, contained in high quantities in the flowers of legal hemp Sativa.
You must know that, unlike THC, CBD does not act on our psyche: it works exclusively on our body, offering beneficial effects that have made it attractive in the eyes of researchers.
Specifically, here are the effects of CBD:
Muscle relaxation
Analgesic
Anti-inflammatory
Immunomodulator
Antiemetic
Antispasmodic
Hypotensive
Antipsychotic (it is, therefore, an excellent reliever of the effects of THC)
At the moment, CBD is not yet considered an active therapeutic ingredient. Still, studies have yielded fascinating results regarding its benefits on patients who have epilepsy, Parkinson's disease, fibromyalgia, chronic pain and many other pathologies.
The best cannabidiol-based products have, potentially, the same effects as CBD even if, in France, their consumption is not (officially) allowed.
They can be used to deodorize rooms and to collect them, but not for personal use. The Italian law says so, although cannabidiol-based products are in no way narcotic!
Read also: Zkittles CBG: information, characteristics and peculiarities of the new cannabis CBD strain
In conclusion
Now you know what Moonrock marijuana is, how it is made and why it is such an exciting product to cannabis connoisseurs.
Would you like to buy it, perhaps along with other high-quality products such as legal hash and CBD oil?
Then visit JustBob, our CBD online shop! You can find organic CBD hemp flowers, CBD hash, CBD oil, and so much more. We are waiting for you!