SET of 3 x Cannabis CBD Oil 5%
3 BOTTLES OF CBD OIL 5% BIO | 10 ML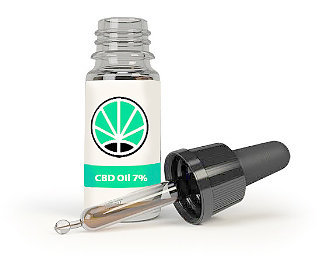 79,90€
Out of stock
Article information
CBD 5%
THC < 0.2%
Cannabis oil: 3 bottles of Cannabis CBD Oil 5% 10 ML
CBD Oil is very popular among legal marijuana fans. This CBD extract, available on our legal marijuana e-shop, originates exclusively from European cannabis strains. To protect the integrity of the cannabis oil's chemical profile, it is important to choose the best extraction method. The most suitable is certainly the cold pressing: this method is most useful because it provides a high quality product, with characteristics nearly identical to the starting strain.
CBD Cannabis Oil: processing and characteristics
Our CBD cannabis oil is extracted from marijuana plants, listed in the European Register of Agricultural Plants, with a totally organic supercritical CO2 Extraction process. CBD oil is then diluted with coconut MCT Oil, that is the reason why our cannabis oil has a particularly clear color and a highly appreciated flavour. Marijuana plants are grown exclusively in Europe under strictly organic conditions, without any use of pesticides, chemical fertilizers or herbicides, in order to obtain a product of absolute quality.
Buy our CBD oil: available formats
On our online cannabis shop we try to satisfy all of our customers needs. If you've never tried cannabis oil yet but are ready for a try, you're in the right place! In the CBD Oil section of our website you will find the right format for you! In addition, if you want to have more information about benefits and uses of these extracts, don't hesitate to visit our constantly updated blog.
Our innovative shipping department enables us to ship orders the same (working) day of receipt. You will receive an e-mail and SMS with the shipment's tracking number as soon as the shipment leaves our facility.

You will always be informed.
We will keep you updated about your order by e-mail or directly via SMS on your mobile.

Customer care:
Email: info@justbob.shop
Mon-Fri 10am – 5pm
Facebook Messenger

For all orders, the minimum is 40 €
Shipping cost: € 7.00
Payment available by credit/debit card on the website
Free shipping for orders > 80 €

You will receive shipment updates by e-mail and SMS.
Depending on location, the package will be delivered at the latest within 3 (working) days. The morning of delivery day, you will receive a notification message.
Couriers work from Monday to Friday, therefore no shipments or deliveries will be made on Saturdays, Sundays or public holidays.
For further info, please contact us at info@justbob.shop
The inflorescences are sold provided with the analyzes made by Us, on each lot produced, and they are also provided with seed labels which attest to the origin and certification within the meaning of European standards.

All products sold by JustBob comply with UK and European law in terms of hemp cultivation.

-Law on Hemp of December 2, 2016, n 242, published on GU n.304 of 30-12-2016;

-D.P.R. October 9, 1990. N. 309 T.U. Drugs;

-Circular of MIPAAF May 22, 2018, "Document on cultivation methods and rules of flowervivalism";

-II Reg.-Delegate-n.-639-2014 Europe

-II European legislation n. 1307/2013