GIRL SCOUT COOKIES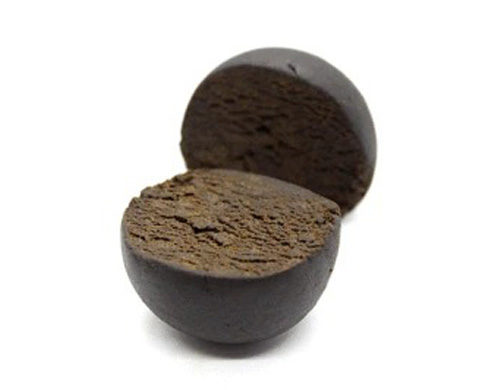 Starting from: 4,90€/g
Article information
CBD 15%
THC FREE
Fruit

Citrus

Floral

Herbal

Spice

Bitter

Wood-Pine

Earth

Gas-Cheese
Girl Scout Cookies
This CBD Hashish variety has gained high popularity in its version without THC; it remains one of the most complete that can be found on the market. Earthy flavors meet with other sweeter ones to form a mix that incredibly resembles that of a biscuit, as the name suggests. Better not to miss it!
Appearance
As per Indian tradition, our hashish has the typical ball shape in which the outer layer has a very intense and dark brown color. For this reason, the nuances of color of this doughy variety are to be discovered inside, which partially takes up the shades of the very bright orange pistils.
Aroma
One of the hallmarks of our hashish is undoubtedly the aroma, which reproduces itself quite faithfully in the taste. A well-harmonized encounter of earthy and intense hints of a forest with sweet ones of cherry and lemon. Unexpectedly, what you get is a cookie flavor, which has driven many consumers of legal hashish crazy and has conquered those who strongly appreciated CBD effects, since this smoke contains it at 15%.
What is CBD hashish
JustBob's legal hashish looks like a plant compound, not derived from hemp, to which pure CBD crystals have been added. The CBD Hash product, sold for technical or collector use, simulates and recalls the famous Hashish from which it takes its name, although it is completely THC-free and not derived from cannabis plants. This product is not a smoking product; its recommended use is for collectors, research or as a freshener for air and / or clothing.